100% Quartz Finish Good Investment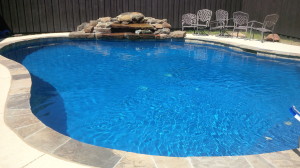 100% Quartz Finishes Are Good Investments. Quartz aggregate finishes are armed to stand up to water chemistry imbalances far better than standard plaster or 50% quartz finishes. Especially if the aggregate is 100% quartz. In an acid test where the quartz is submerged in acid, the quartz is completely unaffected. There is no reaction. The acid test is meant to simulate aggressive water in your pool. From that test you can see that a 100% quartz finish is going to perform very well in a pool environment.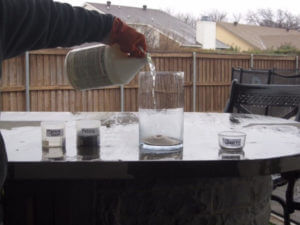 G&B has proven the best finishes in the pool industry are either a 100% quartz aggregate or a pebble finish. We have proven that with the use of our 40,000 PSI Water Jetting machine. This is not your typical scientific test. Over the last 5 years we have replastered over 1500 pools with our Hydro Demo Replaster process. We pass over every square inch of the pool surface with up to 40,000 psi. The pool finishes that wilted/gave up the most under our 40,000 PSI test were standard plaster and finishes that did not have 100% Quartz or pebble as the aggregate. Pools that had more than 50% quartz or pebble did much better in our 40,000 psi test.
G&B chooses to offer the best bang for your buck finish on the market for our 100% quartz finish option. Sparkle Quartz is our quartz aggregate finish of choice. We are able to pump and trowel the Sparkle Quartz without adding any additives. That is not the case with the other options on the market for quartz aggregates. A finish that can be pumped through a hose, regardless of the hose length, and troweled without adding additives will outperform those that cannot.
We have been offering Sparkle Quartz since 2008 and have had nothing but satisfied customers who have chosen it. In addition to having 100% quartz it also features a high performance patented cement.  G&B prefers to install the best finishes on top of our hydro demo replaster prep for our customers and Sparkle Quartz meets that requirement easily.