Types of Pool Replaster Finishes
Swimming Pool Replaster Choices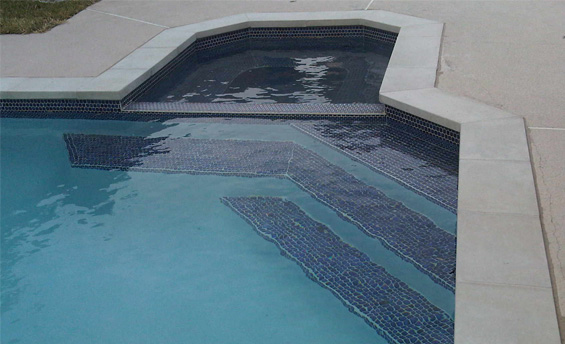 White Plaster has been around as long as pools have been being built. When the sky is clear and water chemistry is on target, white plaster will make your pool water look a refreshing blue color.

White plaster is considered the weakest plaster finish on the market. It cannot stand up to out of balance water chemistry for long at all.  To help offset the weakness of white plaster, G&B Tile and Plaster offers a Pozzolan*-Enhanced White Plaster. Our Pozzolan*-Enhanced White Plaster is stronger finish than Standard White Plaster.G&B Tile and Plaster does not offer Standard White Plaster. We do not feel Standard White Plaster is worth your investment.

50% Blue Quartz plaster is the next step up from White Plaster.  50% Blue Quartz will perform better than any White Plaster.  G&B Tile and Plaster replaces 50% of the marble dust in our Pozzolan*- Enhanced White Plaster with Blue Quartz. Blue Quartz is inert and will not react with water. This finish has a white background with a lot of blue speckles throughout it. It gives the water that refreshing look even on a cloudy day. The combination of the Quartz and the Pozzolans* help this finish perform very well. This finish still has 50% of marble dust in the final product.
100% Quartz Finishes performs better than 50% Quartz. There is no marble dust in the product. At G&B we also incorporate Pozzolans* into the 100% Quartz Finish. There is no weak link in the aggregate portion of the mix, since the quartz is inert. You can add pigment to the 100% Quartz. We offer several colors for you to choose from. Adding a pigmented color will allow the pool to have color no matter if it is a sunny or cloudy day. 
Pebble Finishes perform as well as 100% Quartz Finishes. They have differently colored pebble and pigment combinations that can make your pool look natural. Pozzolans* are added to our Pebble Finishes as well. Keep in mind that this finish will have more texture.
Polished Finishes perform better than Pebble and 100% Quartz finishes. This type of finish is comprised of 100% pebble, 100% quartz and glass accents. Pozzolans*are added to our Polished Finishes to further strengthen the finish. Polished Finishes also allow you to have your choice of color added to finish.  This finish looks similar to a pebble finish without the texture. Polished Finishes are the smoothest finish on the market. Polished finishes can be drained and re-polished in the future essentially giving you a new smooth pool finish at that time some years in the future without going through the expense of a complete replaster.
No matter what the finish… you must always remember proper water chemistry in any pool is a must if you want the finish to look new for years to come.
*Pozzolans are geological deposits added to cement help to densify the plaster by locking up the calcium hydroxide, making it stronger since calcium hydroxide is the weak link in cement. It leaches out of the finish in standard finishes and is commonly called plaster dust.